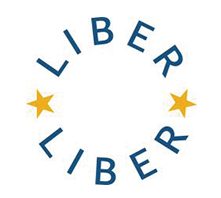 LIBER (Ligue des Bibliothèques Européennes de Recherche – Association of European Research Libraries) is the voice of Europe's research library community. For nearly 50 years, this community has worked together to meet its mission of Enabling World Class Research. Some 450 national, university and other libraries are part of LIBER and its wider network includes goal-oriented partnerships with other organisations in Europe and beyond.
Enabling Open Science is a major priority for LIBER, as is promoting innovative scholarly communication, fostering digital skills and services, and engaging with world-class e-infrastructure. LIBER's 2018-2022 Strategy outlines the main areas of focus and is executed thanks to the dedication of the hundreds of volunteers who serve on LIBER's Executive Board, Steering Committees and Working Groups. LIBER's participation in international projects is also key to the execution of its Strategy.
LIBER aims to provide an information infrastructure to enable research in LIBER Institutions to be world class. It promotes and advocates for European libraries in all European and national fora where the voice of LIBER needs to be heard. LIBER aspires to develop library and information professionals who are innovative and can offer leadership to LIBER and to the national/international library community.
Link: https://libereurope.eu/