07 Jul

INOS LTTA: Open Science Implementation: the DOs and DON'Ts

On Friday, 29 May, LIBER organized a virtual Learning and Train-the-Trainer activity (LTTA) for its partners within the INOS project: Integrating Open and Citizen Science into active learning approaches in Higher Education. The activity aimed at strengthening the project partners' skills to design and deliver Open Knowledge and Open Innovation Activities further along in the project.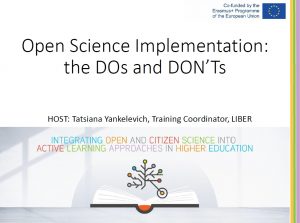 The session on Open Science Implementation was called 'Open Science implementation: the DOs and DON'Ts'  and was lead by two trainers:
Colleen Campbell, Scholarly Communication and Engagement Advisor, Coordinator of Open Access 2020 Initiative, Max Planck Digital Library
José Carvalho, Project Manager, Manager of the National Open Access network of repositories, and national initiative to promote innovation in the scientific publications landscape, University of Minho.
In her part of the training, Colleen Campbell focused on Open Access (OA), exploring the current landscape, challenges and available resources. The training started with an ice-breaker exercise, focused around the question of  "Why Open Access should be the default option". Colleen further dove into the motivation and rationale behind liberating Scholarly Publishing and Open Access as a foundational for the scientific exercise. OA is a necessary prerequisite for the scholarly endeavours that aspire to be universally accessible. The discussion of Colleen's presentation centered around the following questions:
How much of scholarly publishing is OA today?
What can be done to increase the openness of articles?
Who is responsible for making research results open?
What is the Role of Libraries? You share, We take care!
Where can we inject openness in the writing/researching process?
The second trainer, José Carvalho, focused his presentation on the FOSTER training resources on Open Science. The idea of the FOSTER project was to spread the seeds so that anyone, whether an experienced trainer or a beginner, would be able to share  knowledge, and organise specific training activities online and offline.
José centered his presentation around the following themes:
Open Science Taxonomy: familiarising the participants with the different granularities of Open Science and its implementation
Open Science toolkit: a multi-module toolkit with practical examples and use cases, aiming to combine different toolkits and provide them to stakeholders depending on their needs.
Open Science Training Handbook: a practical guide, a living document covering all aspects of Open Science training.
José further discussed Trainer Resources, how learners & trainers can use FOSTER and how to become a FOSTER Seeder.
The training was filled with continuous Q&A from the participants and demonstrated their clear interest in the subject and thirst for resources to assist in their own Open Science training activities. If you are interested to learn more about what was discussed, have a look at the slides of the presentations available on Zenodo.