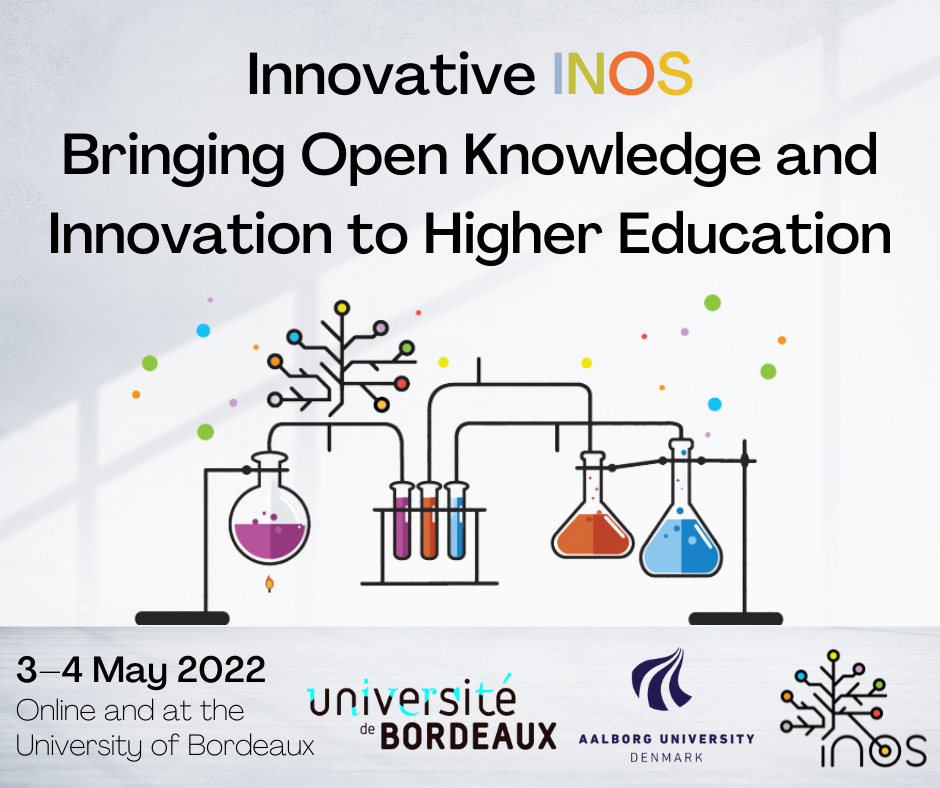 22 Mar

Innovative INOS: Bringing Open Knowledge and Innovation to Higher Education – 3-4 May 2022

Open Science and Citizen Science are growing exponentially, and each plays a key role in shaping research and society in the European Union, especially in universities. Universities are involved in an increasing number of open knowledge and open innovation initiatives, engaging students, teachers, researchers and citizens in digitised projects for a social purpose in an open framework of collaboration.

Since 2019, the INOS project (Integrating open and citizen science into active learning approaches in higher education) has developed activities, experiences and tools to encourage HEIs to be part of this growing movement through teaching, learning, training and taking part in open innovation and knowledge activities.

On the 3rd and the 4th of May the INOS project will hold a two-day online event to present the results and outputs of the project.
Registration
Choose and register for the sessions and workshops you would like to attend here.
Event Program
The event will be held mainly online (Zoom), except the Knowledge Café which will be held in hybrid mode (see below)
3rd May from 9am to 12pm: A general introduction to open and citizen science in HEIs
9am to 10am: General introductions from Yves Ducq, mission leader for Open Science / University of Bordeaux, Amalia de Götzen, INOS project coordinator and Keynote speaker, Giovanni Schiuma, Director of the Innovation Insights Hub / University of the Arts London (see biography below)
10am to 10.20am: [TALK] "Citizen science within and beyond universities: some inspiring examples" by Katerina Zourou / Web2Learn
10.20am to 12.00am: [POSTER SESSION]"Get inspired: presentation of open knowledge and open innovation use cases" by INOS partners
3rd of May from 2pm to 5pm:- A practical approach on pedagogical tools and best practices developed through the INOS project.
2pm to 3.30pm: [WORKSHOPS] choose between:
" Review and recommendations on the integration of OS in HE curricula » by Azusa Nakata and Essi Vuopala / University of Oulu
" World café: Fostering open innovation in your HEI" by University of Bordeaux

4pm to 4.45pm: [DEMOS] choose between:

"The guide of best practices on open knowledge activities"by Kai Pata / Tallinn University
"Consolidating learning in Open Science : the INOS Learning Design Framework" by Amalia de Götzen / Aalborg University

3rd of May from 6pm to 7.30pm: [KNOWLEDGE CAFÉ] "Open data in all its form: science, pedagogy and society" by the datactivists and University of Bordeaux
Both online and face-to-face in Bordeaux (Amphitheater 3 – Pôle universitaire des sciences de gestion, 31 rue Abadie in Bordeaux)
How can open data be converted to knowledge through knowledge co-creation resources? Through different sequences presenting the different facets of data with experts, participants will discover how data can be created, used, managed… and what can be its impact on society.  Join this innovative and open activity in Bordeaux or online!
4th of May from 9am to 12.30am: the social and innovative role of HEIs through Open and Citizen Science
9am to 9.30am: [TALK] "Beyond open and citizen science: social innovation and open data: examples from the field" by Amalia de Götzen / Aalborg University
9.30 to 10am: [TALK] "Learning from Citizen Science though several educational institutions" by Kai Pata / Tallinn University
10am to 10.20am: [TALK] "Co-creating a Shared Vision for Citizen Science in Higher Education: Pitfalls and Recommendations by Rosie Allison / LIBER
10.30am to 12.30pm: [ROUND TABLE] "How to integrate and structure Open and Citizen Science within institutions and European projects" Structuring a common vision of open and citizen science through Europe: sharing experiences and building projects
Speakers:
Liisi Lembinen, University of Tartu, / LibOCS Project
Giannis Tsakonas, University of Patras / CeOS_SE
Alexandra Angeletaki,  NTNU Norway / eCHOIng
David Hoyos Ramos, University of the Basque Country /ENLIGHT Rise
Moderators: University of Bordeaux
Keynote speaker – Giovanni Schiuma, PhD
Giovanni is a Full Professor in "Strategic Knowledge Management and Innovative Organisational Transformation" and Head of the Business and Engineering Management Program at LUM University (Italy). Dr Giovanni Schiuma, as a high international academic and consultant, is widely recognised as one of the world's leading experts in knowledge-based organisational development and transformation, arts-driven innovation and arts in business, and strategic knowledge management for company value creation, digital innovation management and organisational resilience development. Inspiring communicator and facilitator with extensive research management expertise and excellent ability to coordinate complex projects, lead research teams and contribute to organisational governance. Creative and innovative, with an international mindset, network and openness to address and solve critical strategic research and organisations' challenges.  He has authored over 200 scholarly publications. His vision of the strategic and operational role of creative processes and art in 21st-century organizations has influenced the development of new organizational-management models. His book 'The Value of Arts for Business', published in 2011 by Cambridge University Press, is considered one of the fundamental scientific works in defining the foundations of a new discipline identified as Arts Based Management and is internationally adopted by universities offering courses in Cultural and Arts Management.
Who Can Attend?
All persons interested in open knowledge and open innovation, especially university communities: staff and faculty of universities and libraries (including academic and administrative staff) and students.
For further information
Please contact Helene.schwalm@u-bordeaux.fr
This event is organised within the framework of the INOS project. This INOS project has been funded with the support of the Erasmus+ programme of the European Union under the contract No 2019-1-DK01-KA203-060268.