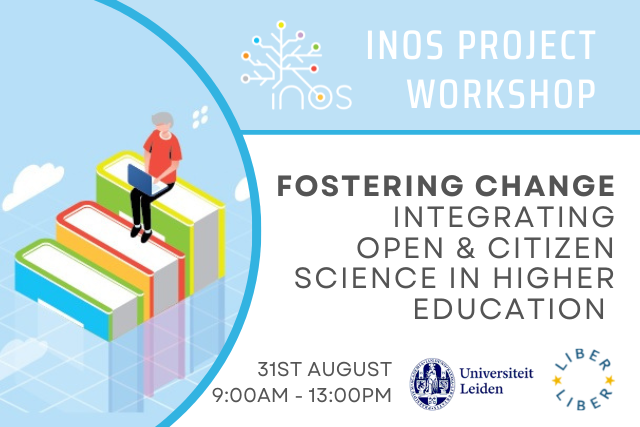 19 Jul

Fostering Change: Challenges and Opportunities for integrating Open Science and Citizen Science in HEIs

Date: 31st August 2022 – 09:00AM-13:00AM CEST
Venue: Leiden University Library
REGISTER HERE
Workshop aims
While Open Science (OS) and Citizen Science (CS) implementation have been high on the pan-European agenda in recent years, different countries have approached this with various levels of advancement. Some have Open Science embedded in their national strategies. Others rely on the enthusiasm of Higher Education Institutions (HEIs) and library staff to integrate best practices at their institutions.
Since August 2018, the Integrating Open and Citizen Science into Active Learning Approaches in Higher Education (INOS) project has developed a number of resources for HEI and libraries to foster change and make the integration of Open and Citizen Science easier.
This workshop aims to share these results with library and HEI management and staff, national policy-makers, and other European and international networks working on training and skill development related to OS and CS. But the event will also be an opportunity to celebrate the work of INOS and the importance of Open and Citizen Science with a non-expert audience, including students, local citizens and anyone interested in learning more about how the opening-up of the scientific process can benefit society.
After participation attendees will:
Understand better what forms OS and CS activities can take in HEIs.
Have the tools necessary for organizing OS and CS activities in HEI, including in libraries;
Be able to discuss current challenges associated with OS and CS integration into HEI curriculum and future opportunities for change.
Programme 
Please note: The details of this programme may be subject to change.
SESSION I: The INOS Project – Three years of integrating Open and Citizen Science into Higher Education curricula
09:00-10:00 (online participation possible)
Recommendations on social role of HEIs with regards to OS – Amalia De

Götzen

(Aalborg University)
A guide to foster open innovation at your university: the use case of Ocean I3 – Julieta Barrenechea (Euskampus Fundazioa/University of Bordeaux)
Citizen science in academia-society relationships: the 3-year INOS journey – Katerina Zourou (Web2Learn)
Visions and recommendations – cultural and policy change for capacity building – Rosie Allison (LIBER Europe)
Integrating OS (and CS) in HE curricula – student-centred active learning approaches – Azusa Nakata (University of Oulu)
BREAK
10:15-11:00: Knowledge Café
After the presentations, participants will have a chance to take part in the Knowledge Café to discover more about the project results and have a more informal conversation with project partners about the experiences and challenges faced whilst working on INOS.
Refreshments will be served before this session, free of charge.
BREAK
SESSION 2 – INOS and beyond: current practices and future perspectives
11:15-13:00 (online participation possible)
11:15-11:45: Keynote speech – Margaret Gold (Coordinator of the Citizen Science Lab – Leiden University Library)
12:00-13:00: Panel discussion – Future perspectives on the integration of OS/CS into HE learning approaches.
Panellists will discuss practical examples from several institutions of the integration of open and citizen science into higher education learning, and look towards a vision of future progress in this field.
Speakers:
Moderator/discussant: Sara Decoster (KU Leuven)
Please note: some sessions will be streamed online for those who are not able to come to Leiden University Library to participate in person, but the Knowledge Cafe will be available only for in-person participants.
Who can join?
We welcome students, library staff, HE staff and anyone else interested in the topics of open and citizen science. Presentations will be tailored to a non-expert audience, so you do not need to have an in-depth knowledge of the topics to take part.
Registration and lunch
Registration for in-person participants is obligatory to ensure a safe number of participants in the library building. After the event, in-person participants and speakers are invited to join us at Hortus Grand Café in Leiden for lunch, during which the discussion around Open Science in Higher Education can continue. The lunch will be offered by the INOS project but registration is required.
Register for in-person (lunch/no lunch) and online participation, here. 
If you have any issues registering for the event, please contact rosie.allison@libereurope.org